Summer Driving Tips in the City
Summer Driving Tips in the City
Posted on August 11, 2015
One of the most important summer driving tips is knowing the rights of cyclists in the city and paying more attention to them as you drive.
Take this scenario for example. You've just pulled out of your street ten minutes early and smile about your rare jump on the day. You just love your new Dodge - after all, for you it is new! Your favourite song has just started playing on the radio. It's a beautiful sunny morning and the smell of wildflowers mixed with pine trees is in the air. Life is good! You open your windows a little more, enjoying the fresh summer breeze blowing in from the prairies. Taking a deep satisfying breath, you open up the sunroof to catch a couple of brief rays before going indoors. You know exactly what you have to do today to manoeuvre that special client you've been working on, and you mentally rehearse the steps of your strategy once more - your plan of attack is sure to win!
Looking straight ahead and completing your usual right turn onto the main street that takes you to work, you suddenly feel a crunch against your car, hear a light skid, than a crash of metal hit the pavement, and a succession of expletives yelled out in a wild angry tirade. In a panic, you quickly check your right mirror and see the cyclist slowly get up, pull his bike up off the road, and do a lot more than glare at you. What were you thinking? Regret and alarm wash over you as you rush out of the car to check on the cyclist, who you desperately hope is okay.
Observing the Rights of Cyclists in the City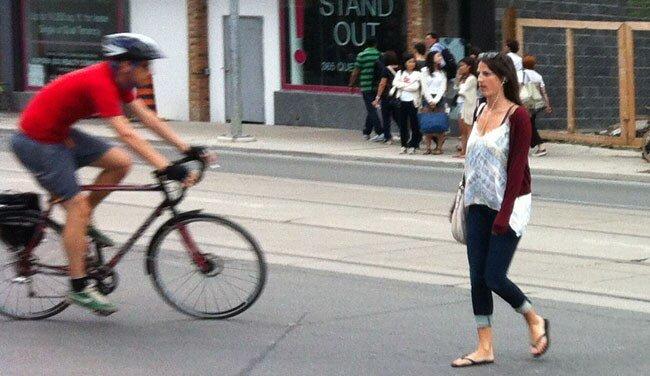 Our city now has several kilometres of bike-friendly roads and routes that include shared use lanes, bike lanes, shared use sidewalks and pathways, bike boulevards and bicycle routes with signs. As more sections of the Downtown 102 Avenue Bike Route and Strathcona 83 Avenue Bike Route projects reach completion and Edmonton's cycling infrastructure plans come closer to fruition, we are seeing the emergence of a healthy new cycling culture that will live side by side with our love of the automobile. The fact is that cycling in Edmonton is part of a Canada-wide phenomenon where cyclists and motorists are getting along with each other, respecting each other, and giving each other enough space on the road where they can each thrive.
Here are ten key tips to help you observe the rights and responsibilities of cyclists and avoid the unfortunate event of an accident – which can often be accompanied by unwanted fines and demerit points:
When passing a cyclist, make sure you keep a distance of one metre between you and the cyclist
When you are parked on a road, try to get into the habit of opening the door with your right hand – this will remind you to do the required left shoulder check by turning your head to the left, ensuring there are no cyclists coming along
Become aware of a designated "door zone" that cyclists may often ride outside of when passing a parked car; this zone is the one-metre region beside any parked car that can seriously injure a cyclist if opened when they are riding past it
Cyclists are expected to ride as close as they can to the curb of a road, and always ride in single file
The same rights and responsibilities on the road are enjoyed by cyclists as motor vehicles and drivers
Bicycles with wheels under 50 centimetres, or children's bikes, are the only ones permitted on sidewalks
Only sidewalks wider than 2.5 meters can accommodate regular-sized bicycles
A $172 fine can be incurred and 2 demerit points earned if you drive, park within, or encroach upon bike lanes
If you don't give cyclists enough space when you pass them or change lanes, you can get 3 demerits and a fine of $172
If you stop or park in a reserved cycling lane where there is a 'no stopping/no parking' sign present, you can get a $75 fine
Being a Car Driver and Cyclist
Many people who drive daily to work or school are also avid cyclists, and vice-versa. Making Edmonton roads safer for all of us as we all get to where we are going, is the goal.