Advanced Safety Features of the 2017 Chrysler Pacifica
Advanced Safety Features of the 2017 Chrysler Pacifica
Posted on August 31, 2017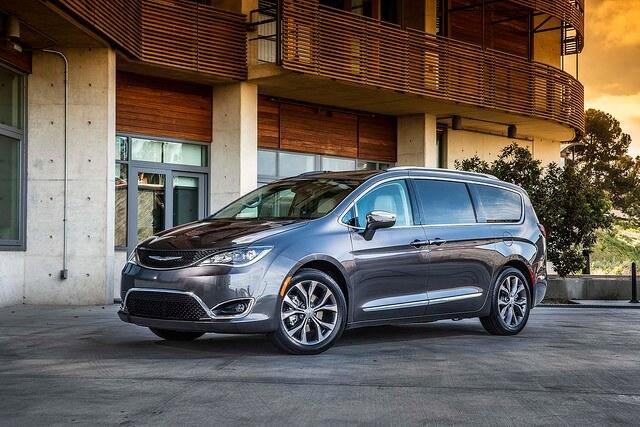 There has
been a lot of buzz about the new Chrysler minivan, the Pacifica, and we can see
why. From the new Hybrid model to the many recent awards and accolades that
this minivan has received over the last year, it's no wonder the 2017 Pacifica
is the talk of the town. While this minivan has many advanced technology
features, showcases impeccable attention to detail, and has a sleek exterior
design, it also has several great safety features, all of which help to make
this vehicle perfect for families. In this article, we're focusing on the top
safety features seen in the 2017 Chrysler Pacifica.
Packages Made With
Safety In Mind
Of course,
all 2017 Chrysler Pacifica's feature the industry standard safety
features, however buyers may choose some additional features. Chrysler has
bundled some pretty cool safety features into two distinct packages. The
SafetyTec Group comes with rear parking sensors, blind-spot monitoring, and
rear cross path detection. The Advanced SafetyTec Group Package includes
automatic wipers, automatic high-beam headlight control, lane departure warning
and intervention, forward collision warning and mitigation with automatic
braking, adaptive cruise control, a 360-degree top-down camera system, and an
automated parking system (suited for both parallel and perpendicular parking).
See Your Surroundings
From 360-degrees
One of the
best safety features that buyers can add to their Pacifica is the 360-degree
surround view camera. Providing drivers with a bird's eye view, the four
perfectly placed cameras allow drivers to see all angles and sides of the
Pacifica. When reversing or switching lanes, with this safety feature, you can
rest assured that all of your blind spots are eliminated.
Allow Your Pacifica To
Automatically Cruise, Worry-Free
The Forward
Collision Warning with Active Braking System will allow you to safely cruise
along the highway. This safety feature acts by detecting when you're
approaching another vehicle too quickly. When this happens, your Pacifica will
let you know by providing both audible and visual warnings, so you can slow
down and adjust your speed accordingly. Iif you approach the vehicle in front
of you too rapidly, the system will automatically apply brakes to help prevent
an accident.
Park With Ease
Parking in
any direction will be a breeze when you opt for the Parallel and Perpendicular
Park Assist System. This class-exclusive safety system is designed to control
the steering while the driver follows on-screen directions, and shifts into the
appropriate gear while braking and accelerating accordingly. Feel like you
can't fit into that tight spot? Front and rear sensors with visible and audible
cues ensure that you won't collide with anything. It will even automatically
engage the brakes during a reverse park to avoid backing into something. This
system has you covered.
And the list
of safety features continues, which is why we're not surprised that the 2017 Chrysler Pacific is the only minivan to be named the
2017 IIHS Top Safety Pick+. Which of the safety features in the Chrysler
Pacifica is the most useful in your opinion? Talk to us in the comments below.
"2017 Chrysler Pacifica Limited" by Automotive Rhythms, used under CC BY