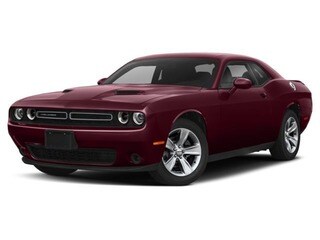 Muscle car loyalists will unite behind the superb offerings of the 2019 Dodge Challenger. This year the iconic, souped-up coupe gets a handful of updates from last year, but that's a testament to the spectacular offerings that hit showrooms last year. With 16 trim levels for every budget and taste, the 2019 Dodge Challenger is a legend, an ally, and a friend wrapped up in one package.
Five Ridiculous Engine Options
The 2019 Dodge Challenger offers five high-performance engines that offer something for everyone. Whether you want a balanced approach to the throttle or a take-no-prisoners option, the Challenger has something to suit you:
3.6-liter Pentastar V-6:

The stock engine is anything but ordinary, offering 305 horsepower, 268 pound-feet of torque, and a remarkable 30 mpg on the highway.

5.7-liter Hemi V-8:

The entry-level Hemi packs a punch with 375 horsepower, 410 pound-feet of torque, and a respectable 25 mpg on the highway.

6.4-liter 392 Hemi V-8:

The 392 Hemi V-8 grinds out 485 horsepower, 475 pound-feet of torque, and a zero to 60 in the low 4 seconds.

Supercharged 6.2-liter Hemi SRT Hellcat V-8:

Let the insanity begin with the supercharged SRT Hellcat V-8. With 717 horsepower, 650 pound-feet of torque, and a sub-4-second zero to 60, this engine cooks.

Supercharged 6.2-liter Hellcat Hemi Redeye:

For a ride that borders on NASCAR racing, there's no other choice than the 6.2-liter Hellcat Hemi Redeye. Packed with 797 horsepower, 707 pound-feet of torque, a zero to 60 of 3.4 seconds and a top speed of 203 mph, this engine literally might make your face melt.
Unmatched Performance
Other automakers might hang their hat on a huge engine, but Dodge understands that there's so much more to add to the equation. Three-mode electronic stability control lets you decide how you handle the turns, including a full-off variant for driving enthusiasts. Electronic power steering provides unmatched handling and agility from the longest straightaways to hairpin turns. Brembo high-performance brakes ensure you're always in control around every turn. Finish it off with either a fun-to-drive six-speed manual transmission or the smooth-shifting Torqueflite eight-speed automatic transmission.
Another interesting feature is the dual key fobs offered by the SRT Hellcat. Grab the black one for 500 horsepower and efficient driving conditions, or use the red one to unleash the full 717 horsepower. This exclusive feature gives you a two-pronged attack to suit your mood.
An Exterior to Match
The metal skin of the 2019 Dodge Challenger conjures up visions of the debut years of the vehicle with a modern edge. The front and rear ends take their cues from the first-generation of the vehicle, while the rest of the frame exudes a present-day touch. Massive aluminum-alloy rims ranging from 17 to 20 inches add some more eye candy to the mix. Whether you're pulling up to the red carpet or the grocery store, the Challenger makes an undeniable statement.
From the beefy, robust underpinnings to an unmatched exterior aesthetic, the 2019 Dodge Challenger is a speedy provocateur that could only come out of Detroit. No matter where you drive, you're bound to get a few envious stares. Enjoy every minute and be sure to see us at Crosstown Chrysler Jeep Dodge to check out the 2019 Challenger.
Image via Crosstownautocentre.com