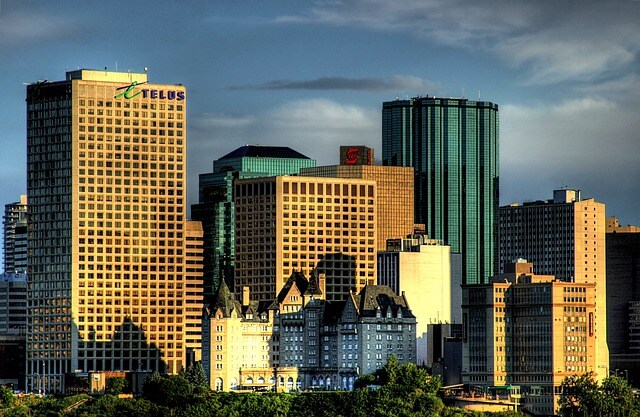 As the northernmost major city on the continent, Edmonton is a strange place right off the bat. It's surrounded by the thick forests and wilderness of northern Canada, yet its 1 million residents help the city maintain an interesting vibe that's worth exploring. From the streets of downtown to the surrounding suburbs, these weird Edmonton attractions may leave you scratching your head, but they're fun, exciting, and memorable.
West Edmonton Mall
Located west of downtown Edmonton, the West Edmonton Mall is a record-setter that even the Mall of America in Minnesota can't touch. Covering 5.3 million square feet, it's the largest mall in North America and the 23rd largest in the world. Within its confines, you'll find 800 stores, 100 dining options, nine standalone attractions, and two hotels.
Not counted in the square footage is Galaxyland — an indoor amusement park home to many records of its own. Here you'll find the 14-story, 4,198-foot roller coaster dubbed the Mindbender for its loop-de-loops, twists, and turns. At this size, it's the world's longest and tallest indoor roller coaster. Still need more thrills? Let the Space Shot drop you a record-breaking 120 feet. If your heart is still beating, you can take solace knowing you plummeted to the ground on the planet's tallest indoor tower ride.
Al Rashid Mosque
So a mosque itself isn't a bizarre attraction, but when it's in Edmonton, it's about as far away as you can get from a Muslim-majority country. However, the Al Rashid Mosque is a testament to Canada's open arms immigration policies and the warm, friendly people who call Edmonton home. Donations from both Muslims and non-Muslims raised enough money to build the structure, and in 1938, it opened its doors.
Designed and constructed by a Ukranian-Canadian, the architecture exudes an Eastern Orthodox quality, adding to the intrigue. Today, it still stands as the second-oldest mosque in North America and the oldest in Canada. That's not something you see every day.
Neon Sign Museum
If you're out for a night on the town and happen to pass the intersection of 104th Street NW and 104th Avenue NW, just look up. Here you'll find the Neon Sign Museum, which is more like a display than an institution. Bolted to the wall of the TELUS Building and the Mercer Warehouse, you'll find over 20 neon signs that have been salvaged from demolished buildings and brought back to life. Not only does it make a great photo-op, but it's also a glowing tribute to the past and heritage of Edmonton.
High Level Bridge Streetcar
Discover Edmonton how it once was with a ride on the High Level Bridge Streetcar. This electric streetcar takes you through the only Canadian Pacific Railway track built east of the Rockies and through some of the city's oldest neighborhoods. For just $6, it's a thrifty, fun way to explore.
Although Edmonton doesn't get the same accolades as some of the other major Canadian cities, E-Town has enough strange, alluring attractions to reel you in. The next time you're thinking of a vacation, Edmonton may sound like a strange choice, but once you arrive, you'll know you made the right decision.
Image via Pixabay