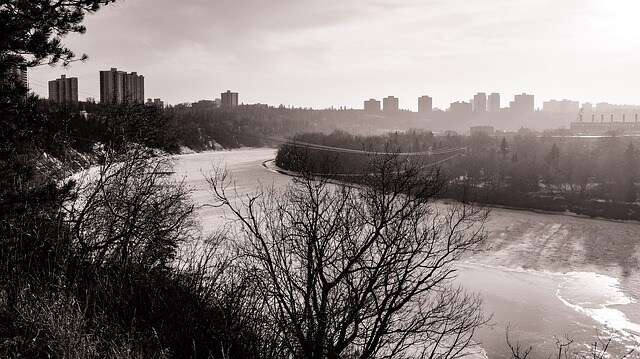 Thousands of people are looking forward to cooler weather, hot chocolate, and the other staples of the gorgeous winter season. If you're hoping to see leaves change colors this year, Edmonton is a fantastic place to be. These are five of the best places to see winter foliage in the area.
Emily Murphy Park
You don't have to venture far from downtown Edmonton to see the leaves changing colors, and Emily Murphy Park is just one example. This small but beautiful park is nestled between the North Saskatchewan River and Royal Mayfair Golf Club, so you'll be treated to some wonderful views. The park is just north of the South-Central Edmonton neighborhood. There are tree-lined walking paths, so you can take a brief, calming stroll to see the foliage.
Emily Murphy Park is at 11904 Emily Murphy Park Rd. NW and is open daily from 5 a.m. to 11 p.m.
Jasper National Park
If you want to get out of the city, you'll be treated to an incredible natural display in Jasper National Park. The city of Jasper is roughly 4 hours west of Edmonton, so it's best for a weekend trip or staycation. Jasper is in the middle of the park and is surrounded by several mountain peaks. You can take a day hike on the trails or upgrade to something like a three-day horseback-riding trip for a truly unforgettable experience.
Mill Creek Trail
Another option close to downtown Edmonton is Mill Creek Trail. This hiking area and outdoor space comprise a series of trails that go from Argyll Park to Mill Creek Ravine South and across 76th Ave. NW to Mill Creek Ravine.
You can explore the trails from Argyll Park or leave from the Mill Creek trailhead, which is at 9116 68th Ave. NW. The trails are popular for hikers, bike riders, and dog walkers, and though they do run adjacent to Edmonton's streets, the tree-lined unpaved paths will make it feel like you're far away from the city.
Banff National Park
Banff National Park is another incredible outdoor space that's about 4 hours away from Edmonton. If you want an escape in nature, the trip is absolutely worth it. The park is full of trails, mountain peaks, and lakes, and in the fall, the area explodes with colorful leaves.
Hawrelak Park
Hawrelak Park is another space in the South-Central Edmonton area, though this park is much larger than Emily Murphy. Spanning roughly 168 acres, it features a park pavilion, amphitheater, and a lake that becomes an outdoor rink in the winter. This spot also borders the North Saskatchewan River. To see the best of the foliage in this area, you can follow a trail that begins in Hawrelak Park, continues around the Royal Mayfair Golf Club, and ends at Emily Murphy Park.
If you're hoping to see winter foliage in Edmonton, any of these five spots are worth visiting during this breathtaking season.