It takes a  certain kind of truck to handle everything that comes your way in central  Alberta. Our Ram dealer in Edmonton, AB  has just the truck-The 2014 Ram 2500. It's the pickup that refuses to  compromise on capability or quality. It's got Best-In-Class towing and an  all-new 6.4L HEMI® that's ready to take care of business whether it's hauling  up in the oil fields or just driving around town.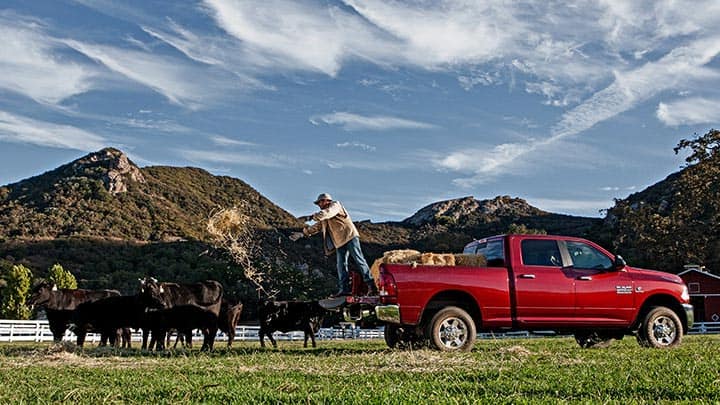 Looks Like a Winner
With hard lines and soft Leather, where the sun don't shine and it ain't good weather - the Ram 2500 always looks right at home.
Mean Muggin'.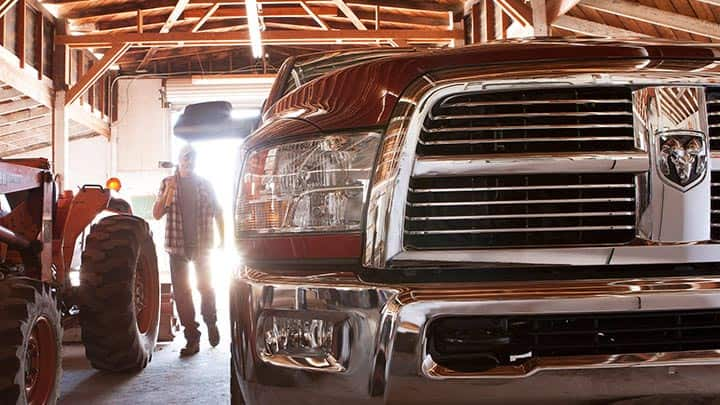 The distinctive Ram crosshair grill greets you  when you first gaze upon the new Ram 2500. A sleek,  aerodynamic body shape and vibrant paint finishes add to this pickup's powerful  appearance - you gotta put on that game face if you want to get the job done.
Stash the Goods.
Best-in-Class Cargo offers maximum storage, including  additional in-floor storage that is insulated, waterproof, removable, and  totally hidden. The available RamBox® Cargo Management System is a lit, secure, durable and drainable storage system incorporated into the side rails of your truck bed.
Get a Firmer Grip.
The available factory-installed Gooseneck or Fifth Wheel Prep Package hitches your trailer to an additional frame cross-member to ensure a solid connection between your truck and trailer.
Epic RAM Superbowl Commerical
'Farmer'
The Facts
About Rams
The stronger, older rams have larger horns and are usually the only ones able to mate with several ewes.
Rams charge each other at speeds of more than 20 mph (32 kph) and the crashing noise can be heard from great distances.
The ram has a thicker, bony skull that that helps absorb the impact of the clashes.
Rams are revered in Native American cultures as a smart, strong animal.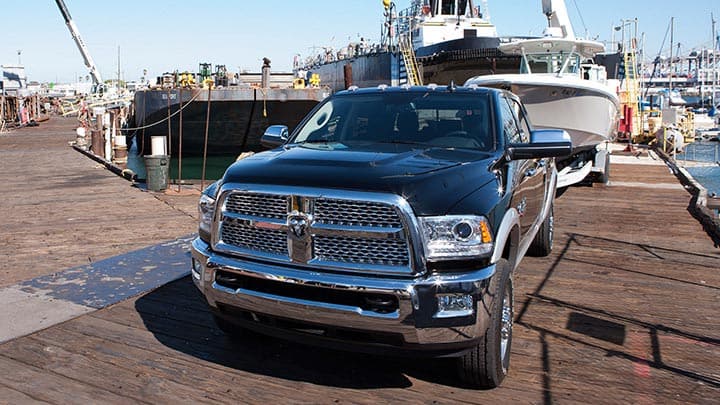 Pure Power
"During the fall, the rams run into each other head-first for the right to mate with a female. The battle can continue for hours, even a full day, until one of the animals walks away."
Born Not Bred.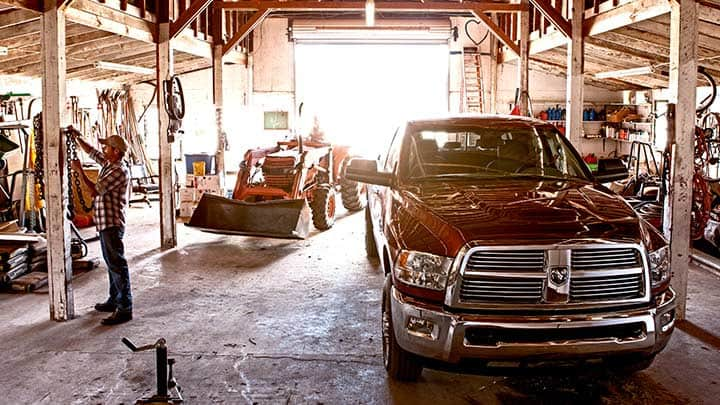 If you want power, you've got it in the 2014 Ram 2500. It comes in  the form of an all-new 6.4L HEMI® VVT V8 Engine that uses variable valve timing  to get you 429lb-ft of torque throughout the rpm range and puts out 410  horsepower.
Gotta Hemi.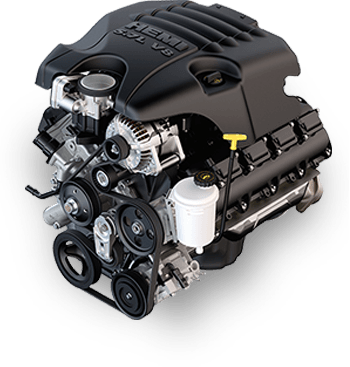 The 5.7L HEMI® VVT V8 pumps out 383 horsepower and 400 lb-ft of torque.
Tow, Tow,
Tow Your Boat.
Other available engines include a 5.7L HEMI®  or a 6.7 Cummins® Turbo Diesel I-6 if you're looking for serious tow  capability. The 2500 still offers Best-In-Class ¾ ton towing. When properly  equipped, it can put out 800lb-ft of torque giving you 17,970 lb of towing  capability.
Blacked Out.
At the Atlanta International Auto Show, the Ram truck brand is rolling out this Black package for the its HD 2500 and 3500 SRW models. It features a sinister-looking exterior with 20-inch alloys, fog lamps, grille, front and rear bumpers and badges all blacked out. All the bodyside badging has also been removed, unless you go for Cummins power, in which case you still get a chrome diesel badge.
In correspondence with Autoblog, Ram spokesman Nick Cappa explained that the popularity of the Black edition light-duty truck was the impetus for the Heavy Duty edition you see here. "Ram has a reputation for going further on design and custom-looks from the factory," explained Cappa, pointing towards the Express, Sport and Longhorn editions. "This type of forward design-thinking led us to extend the aggressive appearance to the HD trucks, which in the past has been a bit more subtle."
- autoblog.com
Modern Technology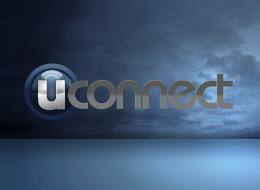 Stay connected on the go.
UConnect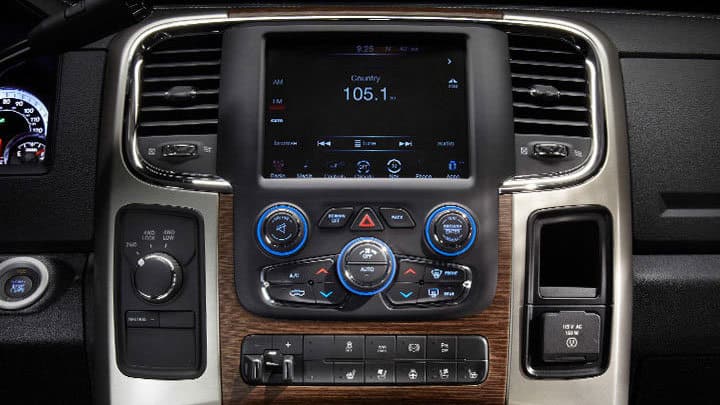 You'll find a huge Uconnect? 8.4 touch screen  that's intuitive and helps you conveniently control cab temperature, your  entertainment, and an available nav system. The hands-free system lets you take  care of business while keeping your hands on the wheel.
Whistles + Bells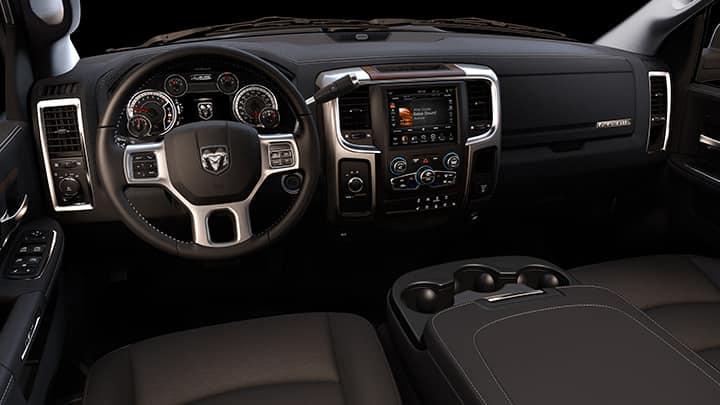 The  impressive list of technology features is almost dizzying on the new Ram 2500.  The Park-sense® and ParkView® backup camera make backing out a snap wherever  you're parked, and the class-exclusive cargo view camera helps you keep an eye  on everything in your truck bed.
Upfitter Interface Module

The available upfitter interface module comes with a variety of inputs and outputs, creating a simple and secure way to connect any number of external features such as plows and tow lights to your vehicles electrical system and control center.
Takes The Heat.
If you're  looking at a Ram 2500, you probably have some serious work to do, and you know  it's important to stay safe on the job. Anti-spin differential is a safety  feature available on all trim levels that provides extra traction for the rear  wheels so you aren't spinning out when you need them most. The large antilock  brakes make it easy to come to a stop even when you've got a full load.
Advanced multistage air bags: Inflates with a force appropriate to the severity of an impact
Anti-lock brake system (ABS): Senses and prevents wheel lockup, offering improved steering control under extreme braking and/or slippery conditions - advanced ABS modulates each of the four brakes individually for optimum control and stopping performance
All-speed traction control: Senses drive-wheel slip and applies individual brakes to slipping wheel(s) and reduces excess engine power until traction is regained